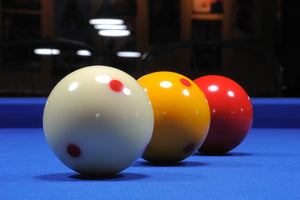 Aramith -
ARAMITH - Quality Commitment
ARAMITH BELGIAN POOL BALLS
OUR QUALITY COMMITMENT
When quality is the essence
1. Because the ball material is crucial for its quality and performance, Saluc uses only phenolic resin produced in its own plant. As such it has full control over each of the basic material specifications that determine the playing characteristics.
2. The 13-step production process lasts 23 days and includes casting and curing processes combined with unique grinding and state of the art polishing technology.
3. Throughout the production process, robotised & computerised technology continuously interfaces with and assists our craftmanship to guarantee tight diameter tolerance and roundness throughout each Aramith ball set.
4. Computerization of colour formulations and number engraving guarantees precisely crafted billiard balls. Therefore, every replacement ball will match up perfectly with any set!
5. Regardless of the many automated and statistical quality controls used to guarantee tight specifications, each ball is still checked manually before leaving the factory to provide the worldwide distribution network with reliable and consistent output.
6. Quality also means respect for our environment. Aramith maintains a full water treatment facility which incorporates environment-friendly processes with sophisticated recycling technology.
Aramith phenolic resin : why it makes the difference !
Heavy duty design
Rather than a number-plug-design, the Aramith concept has the numbers precision-engraved in a solid core that runs all the way through the ball. As such, it is impossible for number-cores to fall out over time. Using phenolic resin assures homogeneous characteristics and perfect chemical bond between each ball part. So homogeneous that when finally getting to its breaking point (and one needs minimum a 5 ton-load in case of an Aramith ball), the ball will break up totally at random, and not along the parting line between the stripe and the rest of the ball, as one would fear.
Burn-spot resistant
Hitting a cue ball actually accelerates it from 0 to over 30 km/h (20 MPH) in just a fraction of a second. The resulting friction temperature between ball and cloth can easily reach 250°C (482°F). That's why Aramith balls are the only ones made from genuine phenolic resin : their molecular structure is engineered to be wear resistant at these high temperatures, making Aramith balls far less vulnerable to abrasive burn-spots. They hold their high luster and smoothness over a much longer period of time, resulting in minimal ball and table cloth wear.
High impact resistance
Because hitting the balls is the essence of the billiard game, impact resistance is a critical factor. Aramith phenolic heat-curing process fully stabilizes material tensions. It produces a vitrified high-density surface that offers maximum impact resistance. Tests show Aramith phenolic balls to withstand to over 50 times more impacts than other phenolic or polyester balls. They are also twice more scratch-resistant.
Consequently, when intensively used even on less maintained tables, Aramith balls are clearly far less easily damaged than others by pocket fixings, table mechanisms or cue stick tips...
Aramith phenolic resin : designed for high precision play
The ultimate in balance
Constant density and balance are of the essence to control speed, direction, spin, impact and rebound in the game.
Through-hardened Aramith resin offers the unique advantage of a completely stabilized material with homogeneous density dispersion throughout each Aramith ball. With the center of gravity at the center of the ball, the resulting ultimate balance guarantees perfectly true and accurate roll.
Perfect rebound and Anti-Kick™
Far more important than ball tolerances are the ball rebound capacities. Only predictable rebounds allow strategic repositioning of the cue ball to optimize the following shot. The unique molecular structure and elasticity of the phenolic Aramith resin have been calibrated to offer the optimal level of rebound to allow players to fully control the effect of every shot.
With its Anti-Kick™ properties, the Aramith balls are far more anti-static than any other brand which prevents the balls to build static charge and hold dust particles, which in turn drastically minimizes the risk for kicks, buttages, skids or poor contacts in the game. 
Worldwide endorsement
The exclusive use of Aramith phenolic balls by most professional tours, federations and amateur leagues in championships and tournaments worldwide is an indisputed endorsement of the quality reputation and superior performance of Aramith balls.
Not just a smart buy but a wise investment
A quality investment
Perfectly round and balanced - uniform weight and hardness - brilliant colours - friction resistant roll and reaction are just a few of the key features that have earned Aramith its worldwide reputation as the premiere ball. Aramith balls are internationally approved for tournaments and championships.
A lifetime investment
Aramith phenolic balls last up to 5 times longer than other balls made from polymers or polyester. The billiard-play simulator leaves no doubt : Aramith phenolic balls are still perfectly playable even after 4.000.000 hits, whereas others were rendered unusable. No wonder they are the logical choice for commercial and private table-owners.
A money-saving investment
Thanks to their exceptionally long service life Aramith guarantees the lowest ball cost over time. The extra hard phenolic surface drastically reduces burn spots on both balls and cloth. As a result, balls need to be polished and replaced far less, saving both time and money.
An investment that creates customer loyalty 
Aramith balls on the table attract league and tournament players. They enhance the quality image and reputation of any club. Regulars and newcomers stay to improve their play. And that's how customer satisfaction becomes a key element for the success of any billiard club. 
---